SHOOTBACK ACCOUNTABILITY THEATRE
FOR IMMEDIATE RELEASE
INFO: http://wearcam.org/nad.html
Destruction of privacy and dignity by unaccountable organizations to become a target of ordinary citizens.
An international coalition that includes artists, scientists, engineers, scholars, and others is declaring December 24, to be "ShootBack Day" (Global Accountability Day).
THE SHOT SEEN AROUND THE WORLD:
At noon on Friday, December 24, ordinary people all over the world will call into question the growing and dehumanizing effects of increased video surveillance in various department stores and other similar organizations that use video surveillance yet prohibit others from taking pictures or video within their establishments. As high noon sweeps past various time zones, the shot heard around the world will be that of clicking cameras.
Rather than protesting by carrying signs, or by marching, citizens will protest by going on shooting sprees. Armed with their own photographic or videographic cameras and recording devices, ordinary citizens will dish out some accountability.
HOW CAN I PARTICIPATE?
All you need to do is bring a camera --- any camera --- to a place where video surveillance is used.
HOW WILL I KNOW WHO I SHOULD SHOOT?
Taking pictures of the surveillance cameras will cause models to appear very quickly for you to photograph. When you point your camera at their cameras, the officials watching their television monitors will very quickly dispatch the models for you to shoot. This is a universal phenomenon that happens in nearly any large organization where video surveillance is used. Models often carry two--way radios and wear navy blue uniforms with special badges. Most will be eager to pose close to your camera, especially the hand models: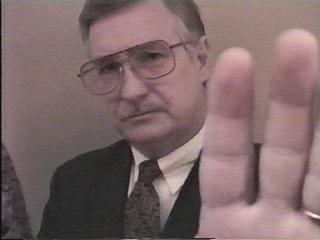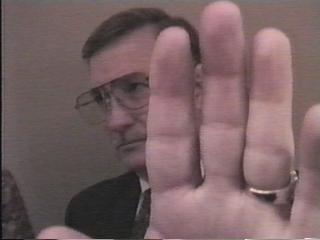 (director of security at Westin Hotels)
They will reach out and place their hands over your camera lens so you can get a closup hand shot.

Why December 24th? What better way to interrupt the orgy of commerce that serves as the endcap of each year, than to have a shooting spree.
RATIONALE:
We are all accountable for our actions. The Bigs keep us under surveillance, whether we're just walking down the street, shopping, or sometimes even when we're changing clothes in their fitting rooms (Phil Patton, Jan. '95, WiReD).

That's why Friday, December 24th is National Accountability Day. This is the day to arm yourself with a camera, or other photographic or videographic instrumentation, and enter various department stores, and other establishments that match the classic definition of totalitarian (e.g. establishments that wish to know everything about everyone yet reveal nothing about themselves).

Examples of totalitarian establishments are those in which we are placed under extensive video surveillance, yet we are prohibited from taking pictures ourselves. The goal of National Accountability Day is to challenge this one-sided aspect of Totalitarian Surveillance.

Participants will also photograph or make videos of any illegal activity they happen to encounter in these totalitarian establishments. Evidence of illegal activity includes fire exits chained shut, and other forms of entrapment, forcible confinement doors, and the like, which are potential fire hazards.

It is preferable that groups of citizens participate in unison, to prevent, or at least document illegal theft or vandalism of photographic equipment by the Bigs.

When we ask why we are under video surveillance, we are told by the Bigs that ``only criminals are afraid of cameras'', or we are asked ``why are you so paranoid''. Now is the time to allow the Bigs to define themselves.

The camera is Hamlet's Mirror, allowing the Bigs to define themselves within a Reflectionist context.
Shoot Authority First
Question Authority Later.
(Shoot first, ask questions later)
---
Keep your pictures for the ShootingBack contest
Photo Contest Submission Instructions: http://wearcam.org/nad-entry.htm
GOING POSTAL:
---
http://wearcam.org/nad-faq.htm
---
Research papers and other references on Video Surveillance, Privacy Issues, and the use of Personal Intelligence devices, or just plain ordinary cameras as tools for self-defense (photographic media as protective elements):
---