Next: Definition of `WearComp' Up: A proposed solution: Humanistic Previous: A proposed solution: Humanistic

WearComp, which originated in the 1970s as a tool for the visual arts[7], is a new form of human-computer interaction comprising a computer that is subsumed into the personal space of the user (e.g. the computer may be worn, hence the term ``user'' and ``wearer'' of the computer may be used interchangeably), controlled by the wearer, and has both operational and interactional constancy, eg. is always on and always ready and accessiblemannpt. Typical embodiments of WearComp comprise a body-worn computer system, a visual display over one or both eyes with text and graphics display capability, and an input device consisting of typically five or more pushbutton switches that may be operated by one hand. Other input devices typically include a microphone and video camera positioned such that it provides a view of the same subject matter the wearer sees. While this apparatus may sound, at first, unwieldy, it has evolved, over the last 20 years or so, into a normal-looking (e.g. unobtrusive) form of clothing. (See Fig 2.)


  

Figure: Typical embodiments of the WearComp ``photographer's assistant'' for of Personal Imaging. (a) The ``photographer's assistant'' project of the 1970s eventually gave rise to cumbersome backpack systems of the early 1980s. (b) These systems evolved into a series of late 1980s clothing-based signal processing and personal imaging systems, which, although still somewhat cumbersome, were more comfortable to use due to better distribution of lesser weight. Here, for example, is a system with left eye display and beam splitter, which was an experiment in partially-mediated reality. Separate antennas facilitated simultaneous voice, video, and data communication. (c) Current (1990s) embodiments of WearComp are unobtrusive. These are more suitable for everyday use.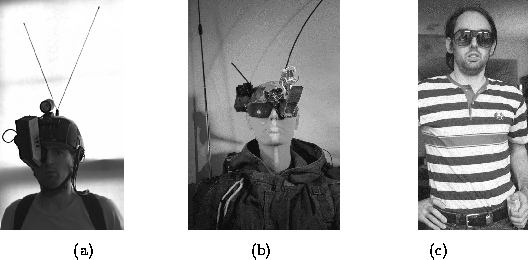 ---
Next:
Definition of `WearComp'
Up:
A proposed solution: Humanistic
Previous:
A proposed solution: Humanistic
Steve Mann
1998-09-15