Next: The new business opportunity: Up: Conclusions Previous: Conclusions

A goal of Artificial Intelligence (AI), is to emulate human intelligence. This goal has evolved toward Environmental Intelligence in which cameras and microphones everywhere monitor us, purportedly to make our lives better (Fig 4).


  

Figure: A goal of Artificial Intelligence (AI) is to emulate human thought. A goal of Environmental Intelligence (EI) is to have an environment that monitors the user and ``tries to be helpful'', although it then opens up the question as to whether or not the architect of the space is serving his or her own needs which may be different than, or in addition to the needs of the occupants. Humanistic Intelligence (HI) encourages individuals to architect their own space. Rather than attempt to emulate human thought, HI recognizes the synergy between human and machine that arises from having human intelligence in the feedback loop of a computational process. HI also builds, to some extent, on the existential principle of self-determination and mastery over one's own destiny.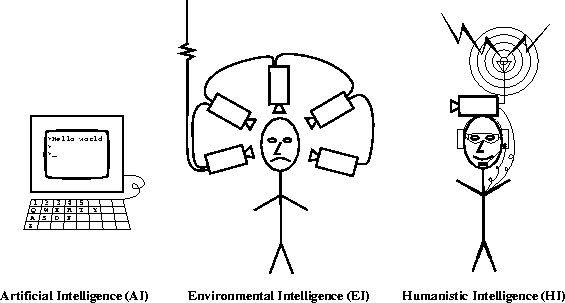 In many ways, the goals of AI and EI are similar, in the sense that both attempt to emulate human intelligence in a machine. HI is presented as an alternate direction, in which the human becomes the machine. While we already have smart rooms, smart floors, smart toilets, smart elevators, smart light switches, etc., we may how have ``smart people'' -- people equipped with devices that have traditionally only been part of the architecture or environment.
---
Next:
The new business opportunity:
Up:
Conclusions
Previous:
Conclusions
Steve Mann
1998-09-15