MannLab students found companies worth more than $1 billion
Toronto, Ontario, Canada, October 2018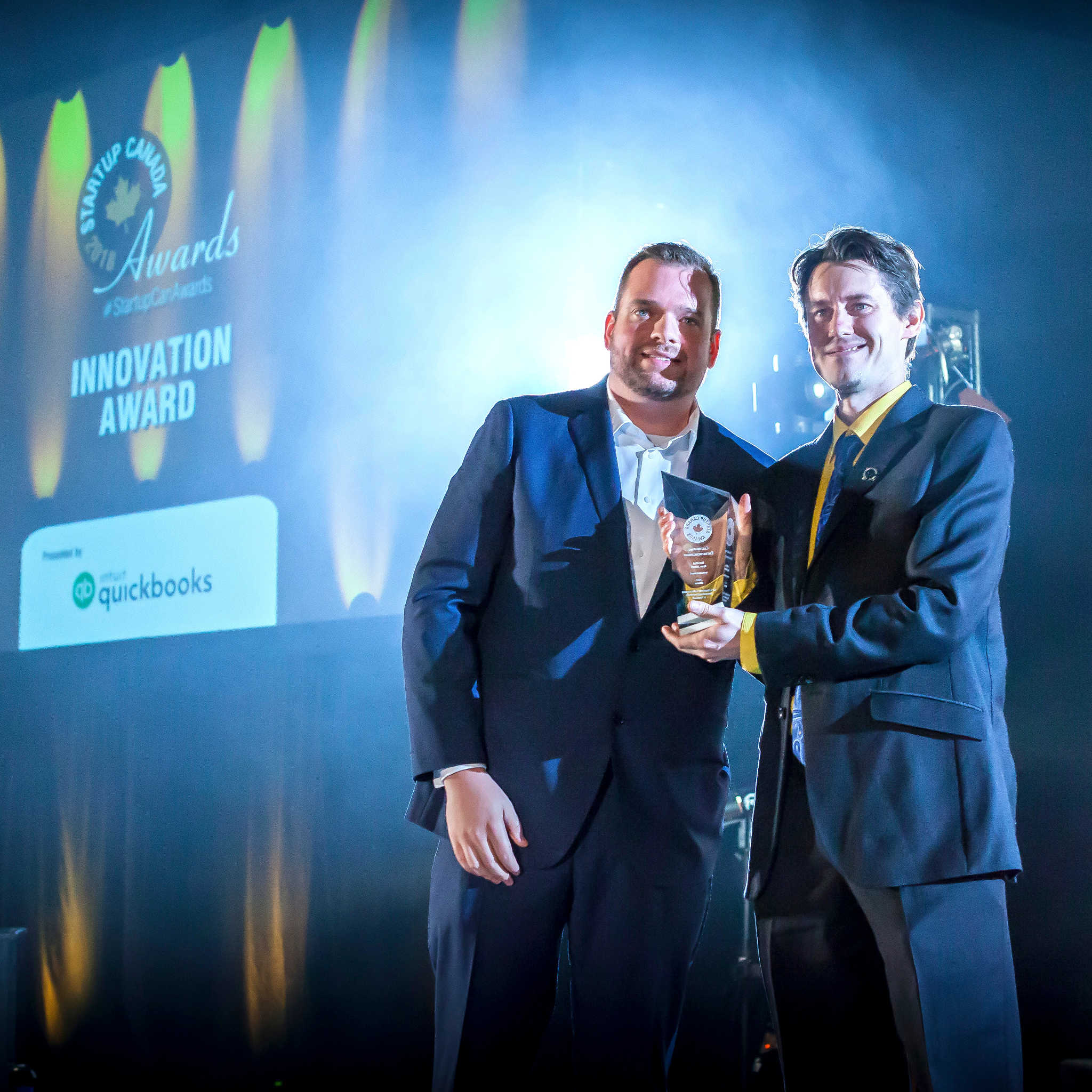 Caption: R. Janzen receiving Innovation of the Year Award, 2018.
Professor Steve Mann teaches a course entitled "Inventrepreneurship" (Invention + entrepreneurship) and teaches students fundamental scientific principles that lead to innovative breakthroughs. Examples of success from Mann's students include:
While he was Mann's PhD student, Ryan Janzen founded a transportation company, Transpod, raised $65,000,000 ($20,000,000 investment [Betakit 2016] plus 32,000,000 Euro grant) [Transpod 2018]. Janzen recently won the "Innovation of the Year Award".
Mann's MaSc students James Fung (now with Google) and Chris Aimone, together with Mann, and others, co-founded InteraXon and raised $28,800,000. The InteraXon Muse product is now sold in Best Buy stores all across North America and is also available on Amazon.com. Interaxon's first product, the Muse, was described as "The Most Important Wearable of 2014" [Venturebeat, Gregory Ferenstein, May 24, 2014 12:39pm], "The King of Wearables" (BetaKit Canadian Startup News, Feature May 27, 2014). and #1 in the "Top six wearables..." of 2015. Regarding the new Muse 2 headband and brain health technology platform that was just released on 2018 October 30th, Mashable described it as "the holy grail for mindfulness", in an article entitled: "Muse 2 review: The world's best meditation tech just got even better"(Mashable).

Caption: Muse2 Launch day at InteraXon, 2018 October 30th.
See also Time-frequency analysis of visual evoked potentials using chirplet transform, Cui, Wong, and Mann, Electronics Letters 41(4), p217-218.
While he was Mann's PhD student, Raymond Lo (now at Harvard University), together with Mann, and others, founded Metavision, raised $75,000,000, and manufactured the world's first extramissive spatial imaging augmented reality glass (Can. Pat. 2,896,985, US Pat. 9,720,505).

Caption: Raymond Lo and Steve Mann with Metavision eyeglasses.
While transitioning from MaSc. to PhD under Mann's supervision, Amir Ali founded Blockchain Sousveillance company and raised $25,000,000 US based on the blockchain sousveillance technology developed by Mann and Ali. Sousveillance is the "Little Data" ("Little Watching") counterpart to the otherwise one-sided "Big Data" ("Big Watching") of surveillance.
Inventrepreneurship is ideally suited to students who are good engineers and scientists with good hands-on skills. Students interested in joining MannLab should begin by doing some of the Instructables: https://www.instructables.com/member/SteveMann/instructables/, clicking on "I made it", and posting some pictures and videos. Let your talent be discovered!