Wearable Computing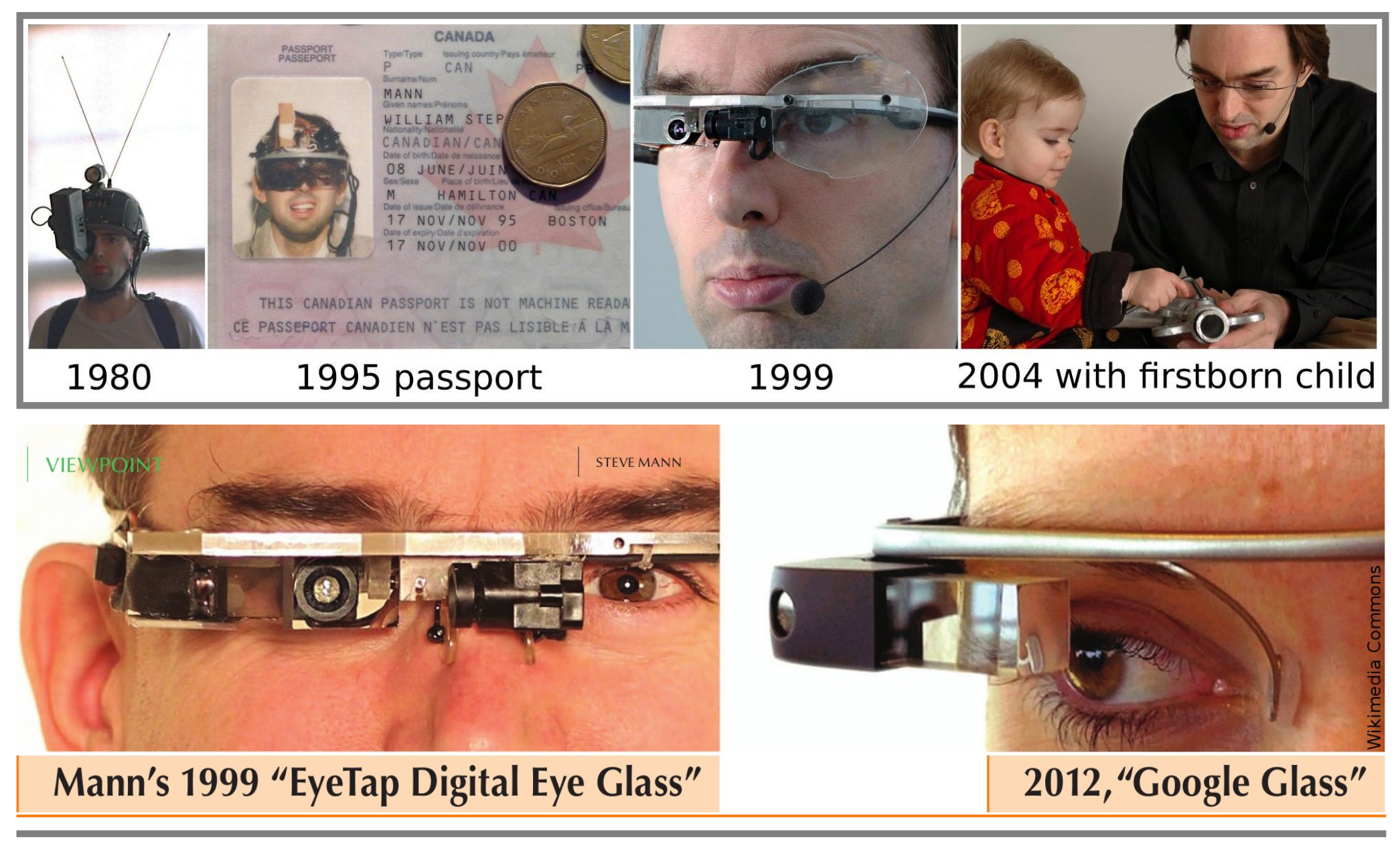 Above: historical evolution of wearable computing.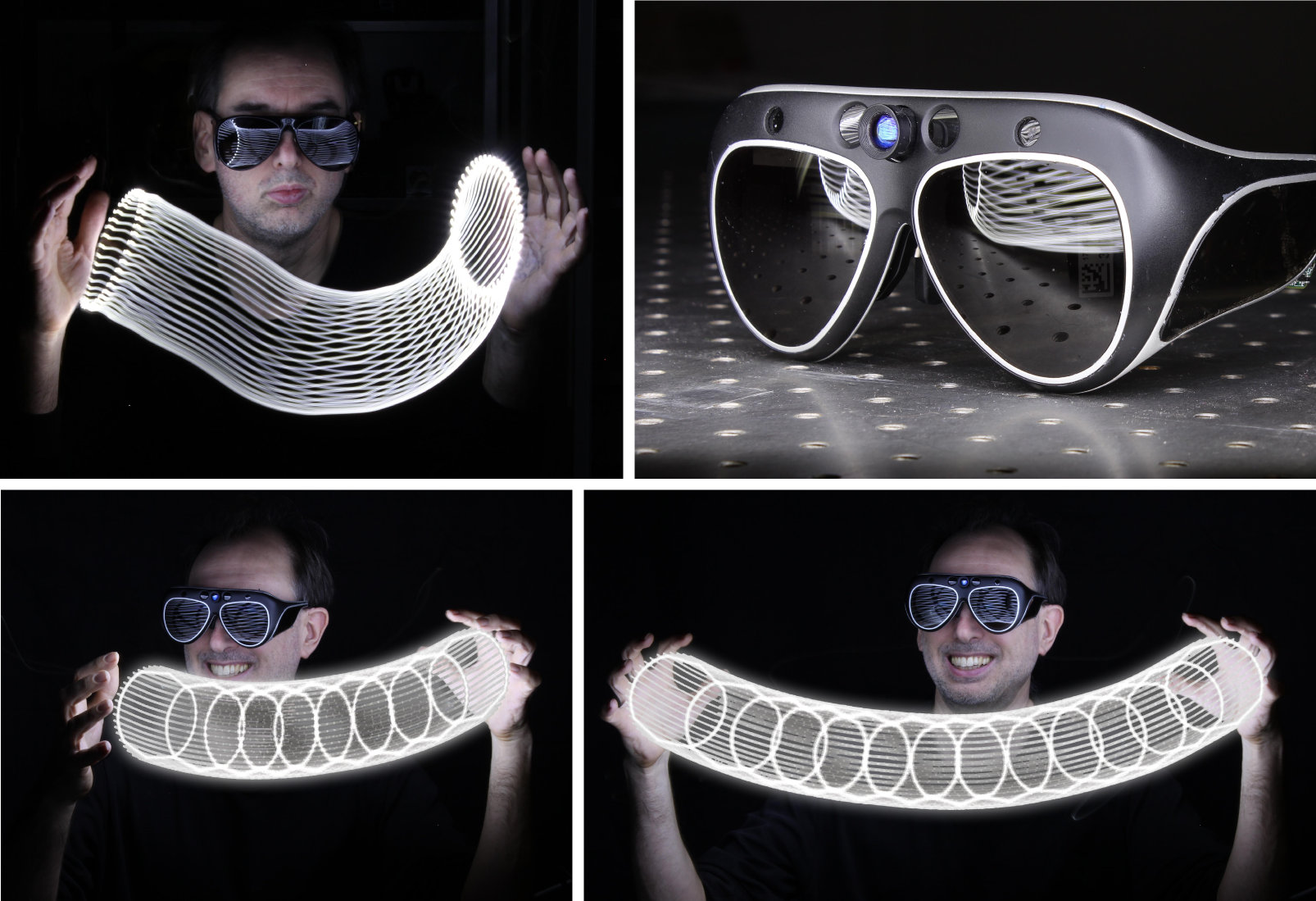 Above: Meta Spaceglasses for 3D gesture-based AR (Augmediated Reality)
Invention title: Wearable Computer.
Summary explanation -- how it works:
Computers have been around for thousands of years if we consider the abacus as a computer, and the abacus can be hung from a string, worn as a necklace, or the like == an early "wearable computer". But when we say "computer", especially in the context of the "computer revolution" or the "digital revolution" we usually mean a general-purpose computer that can run a wide variety of "apps" (appliation-specific computer programs). In this sense, the wearable computer was invented by S. Mann in the 1970s as a general purpose personal wearable computer system for such applications as a seeing aid and as a photographic visualization system for experimental and commercial photography [Steve Mann, Campus Canada, ISSN 0823-4531, p55 Feb-Mar 1985, pp58-59 Apr-May 1986, p72 Sep-Oct 1986], and, more recently, for gesture-based 3D AR [Steve Mann, IEEE Computer, http://wearcam.org/ieeecomputer.pdf], and the smartwatch http://wearcam.org/isscc2000.htm. Wearable technologies represent a whole new field and discipline, not just a single device:

"Steve Mann is the perfect example of someone... who persisted in his vision and ended up founding a new discipline." -- -- Nicholas Negroponte, Founder, Director, and Chairman, MIT Media Lab, 1997

Many recent developments in wearable computing represent business opportunities, in collaboration with inventor S. Mann.

A core element of this invention is the Digital Eye Glass, and in particular, the Extramissive Spatial Imaging Glass, abbreviated "Spaceglass" (see http://spaceglasses.com). There are numerous business opportunties around this invention, and working in collaboration with Meta in Silicon Valley California, together with Meta's Chief Scientist, Steve Mann.

Another point-of-entry into this field is with InteraXon, makers of the Muse, known as "the most important wearable of 2014".

Example commercial applications:
Photography, commercial photography, videography, movie industry, film industry, content generation, education, fine-art photography, and imaging. Can also be used to create interactive 3D AR (Augmediated Reality) assets and art works. But wearable computing is more than one single vertical == it also represents a massive horizontal (lateral) market opportunity.
Link to technical papers associated with the invention:
•IEEE Computer, Volume 30, Issue 2, pages 25-32, Feb 1997;
•Proc. IEEE, Vol. 86, No. 11, November, 1998, Pages 2123-2151 + cover;
• Seeing Eye-to-eye.
• General overview of wearable computing: Interaction Design.
Patent applications filed or issued: Extramissive Spatial Imaging Glass (with Meta, makers of Spaceglasses). Other patents have also been filed and more are in progress.
Prototypes constructed: An extremely large number and diverse range of fully functional prototypes have been constructed by S. Mann and others. These are available for demonstration or loan to interested parties.
Further notes: This invention is in collaboration with a number of other parties and entities.
Return to a list of some of Steve Mann inventions