Facility design sparked by Wearable Computer user's fear of decon
Because of yesterday's escaped victim, talk is underway on the building of a new decon facility in downtown Toronto.

Portable decontamination facilities are erected in haste, and plastic ``DECON LINE'' tape does little to prevent victims from escaping.

Yesterday, though plastic tarps were held up on each side of the decon line, there was lots of confusion, and it was too easy for a victim to escape and disappear into the crowd.

And rolling out razor wire and armed guards would send the wrong message, especially in the presence of the media.

What is needed is a properly built mass triage and control facility (CF) for handling any kind of multicasualty incident or civil unrest.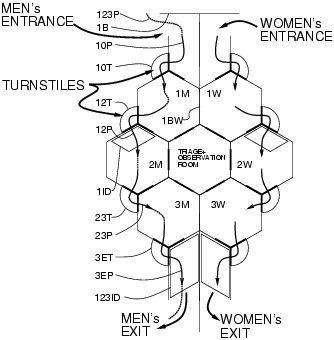 When processing civilians, privacy concerns must also be addressed. Men and women would go through different compartments.
Each of the men's and women's sections has three compartments separated by one-way turnstiles to prevent egress or escape of victims.
In the first compartment, eyeglasses and other prostheses not required for safe evacuation must be bagged. All contact lenses suspected of being contaminated must be placed in a plastic bag for being sent to the decontamination station. Removal of all external extraneous items from contact with the body is required. Such items include hearing aids, artificial limbs, jewelry, watches, toupees, and wigs.
A central triage room permits viewing of the decon process by a decon officer who will remotely unlock the turnstile into the second compartment, which is for showering. The turnstile will be unlocked only when persons are completely naked in compliance with policy and procedure. Finally a third compartment is for drying and dressing in tyvek uniforms.
Because of the turnstiles, there is no way for a victim to flee from the decontamination line, as happened in yesterday's incident.
The triage room is also equipped with remote controls for plumbing and solenoid operated locks, allowing a remote triage officer (viewing through remote video links from six security cameras) to control the operation of the facility.
In order to ensure privacy, video archives (necessary for security, and also to be used for training of new decon officers) will be password protected to ensure viewing only by same-sex decon officers. The police spokesman said that privacy is taken very seriously. Just like medical records, recordings of the decon process would only be accessable by hospital staff, police, or officers and trainees.
The excellent facilities and permanent systems soon to be in place at Toronto's CF site, will serve as an example for downtown city centers, airports, and other places around the world.
S. Mann, Sun Apr 1 07:27:17 EDT 2001
---
See EXISTech Corporation's original facility proposal of April 1, 2000 (CA2303611)
---
Excerpts from various government and industry WWW sites pertaining to decon
---
---
Happy April 1.
---
here's an appropriate quote from the "Top 20 Net Fools - April Fools on the Net" page:

   This web page is either a SATIRE or a PARODY. This web page contains
   HUMOR. This web page is a JOKE. This web page is NOT TO BE TAKEN
   SERIOUSLY. THIS WEB PAGE CONTAINS NOT ONE SINGLE, SOLITARY FACT. It is
   PURE FICTION. This web page is not to be taken internally. This web
   page is made from 100% recycled electrons. No animals were harmed in
   the making of this web page.

   Trust us on this, every page within the April Fools on the Net web
   site is supposed to be FUNNY. Even if you don't think it is, others
   do. Diversity of opinion is essential to our democracy, and we support
   pluralism, the First Amendment, Mom, the Flag, and Apple Pie.

---
Previous Articles