Upstairs space at 330 Dundas Street West
artist live/work space;
six huge floor-to-ceiling windows running all the way across the front of the building;
great view of city life and culture;
entrance directly across the street from the main entrance to the Art Gallery of Ontario;
less than one minute, on foot, from Ontario College of Art and Design (OCAD).
five minutes, on foot, from the central part of University of Toronto's main campus.
Call 416.946-3387 (leave message) or 416.864-6718 (weekdays, 9am-5pm).
central heating and central air conditioning (brand new 3 ton unit).
Pictures for showing and illustrating the 330 Dundas Street West space
---
Cyborg Echoes exhibit (Mar. 21-22):
greyscale images on right may be useful for publication in noncolor media

If printing in black and white, use the images on the right, otherwise there may be problems when certain bright vivid colors get convered to incorrect shades of grey.
Pictures that have a more "normal" tonal range are presented only in color, because they can safely be printed in black and white without anything strange happening.
Exteriour of building: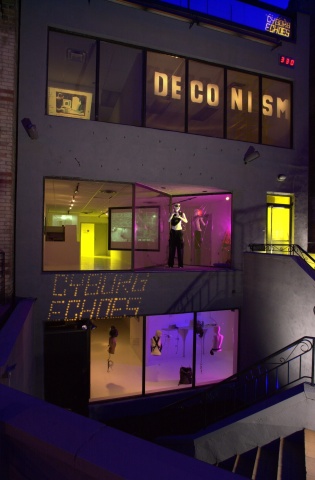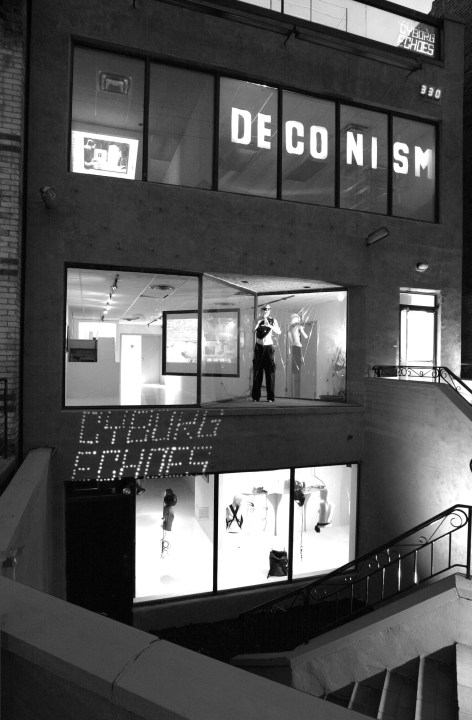 ---
Huge windows, lots of natural light in front gallery:
daytime view looking out front window from inside upstairs gallery: