Deconism Gallery/Museum/Arts Complex
Artist live/work space for rent/lease:
Main floor is an artist/inventor live/work space (currently occupied by owner)
Pictures from previous events (these give examples of how the space looks, and is typically configured, etc.)
Saturday.9pm(doors).August30.2003
REGEN3/Regenerative Brainwave Jazz
at DECONISM Gallery, 330 Dundas St. West, Toronto
(across the street from the Art Gallery of Ontario),
tickets available at the door.

REGEN3 will present the latest developments in EEG brainwave music research, by presenting an ensemble comprised of Toronto jazz musicians playing music which is driven and altered by the brainwaves of the audience. This novel form of live audience feedback interaction will create music which is responsive to the collective consciousness of the audience. The evening's music and mood will be "regenerated" by the audience throughout the evening.

For more information, see http://www.eyetap.org/deconism/
---
---
Thursday.8pm.August14.2003
DECONversation / Maurice Benayoun and Steve Mann, moderated by Derrick de Kerckhove
at DECONISM Gallery, 330 Dundas St. West, Toronto
(across the street from the Art Gallery of Ontario),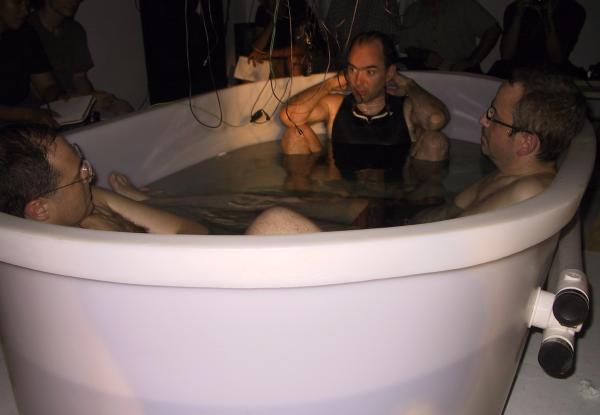 pictures from event now available
DECONISM Gallery presents an evening's dialogue between Maurice Benayoun, an internationally recognized interactive virtual reality artist and public intellectual in the area of new media and technology, and Professor Steve Mann, the acclaimed inventor of the wearable computer and the world's first photographic cyborg. The evening of discussion will be moderated by Professor Derrick de Kerckhove, Director of the Marshall McLuhan Program in Culture and Technology. Benayoun and Mann have both probed the nature of the reality through technological mediation. The dialogue will be a probe into a future of awareness, the nature of consciousness reacting to technological extensions, and the ensuing effects upon individuals, culture, and society. Audience questions and participation will be encouraged.
---
---
---
Thanks to 3M for the loan of the MP8775i projector that is visible in this picture. The projector provided a visual extension of the architecture, along the 45 degree angle to match the architectural lines of the building. Here we see a 4up from the buildinglog and cyborglog ("glog").

Thanks also to Rogers, Jack Frost lighting, Yorkville audio, and to all the others who helped with this project.
---
Previous Events and Exhibits at Deconism Gallery/Museum/Arts/Conference Facility
Deconism floorplan (main floor) and paint colours for whole building
---
CTHEORY article on DECONism
---
---
Parallel Programs: Prosthetic Head at Interaccess
---
Deconism is located directly across the street from Art Gallery of Ontario, and overlooks the downtown core of the city of Toronto: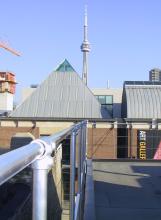 ---
Front room podium: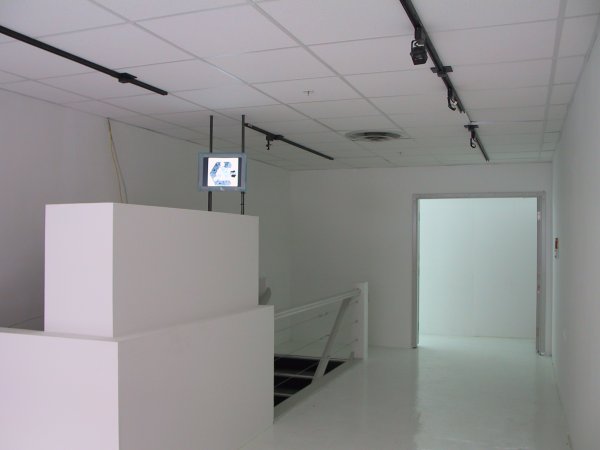 ---
Level 2 lab (etrl):



---
Level 1:

---
see also "panopdecon"
---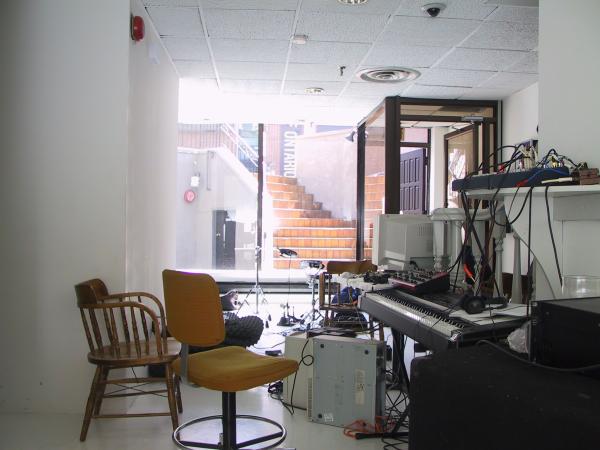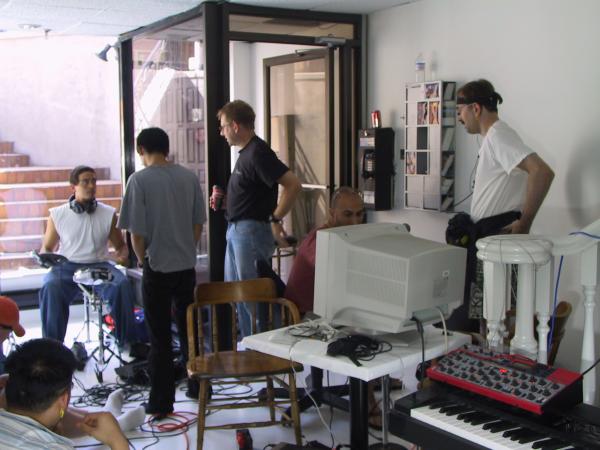 ---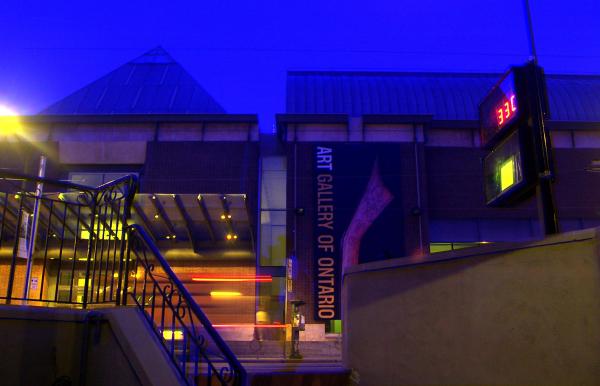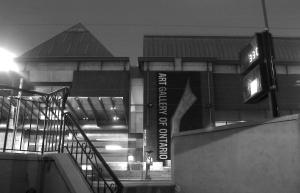 ---
Installation of firehose for DECONference 2003
---