232-6727
All screenings at
395, rue Wellington Street
National Archives Auditorium
Archives nationales du canada
CAFÉ EX at
Club SAW
67 Nicholas St.
The Searchers: The Cinema of Peter Lynch
One of Canada's most thoughtful and articulate filmmakers, Toronto documentarian Peter Lynch has concentrated his perceptive vision on stories about those who are in pursuit of something, real or imagined, beyond the bounds of conventional society. The quixotic, searching personalities he examines are at once representatives of their culture and dissenters from it. It is in that fissure between individual and society that Peter Lynch does his own searching. Peter Lynch will attend the special premiere of CYBERMAN to introduce and discuss his work. The CFI is proud to present this first ever retrospective of the the remarkable films of Peter Lynch.
Sun./dim. Sept. 30 sept., 19:00
Sat./sam. Oct. 13 Oct., 21:00
PROJECT GRIZZLY
Canada 1996, 72 min. Director: Peter Lynch
"There are mavericks and there are mavericks. In 1984, Troy James Hurtubise survived a grizzly attack in the Canadian bush. Thereafter he became obsessed with creating a bear-proof suit of armour developed over seven years and constructed of rubber, chain mail, and air bags. Filmmaker Peter Lynch chronicled Hurtubise's quixotic odyssey, including hilarious forays into the doughnut dens and biker bars of Canada, there to tangle with inebriated homo sapiens surrogates in preparation for the suit's intended nemesis. The mythic creature's awesome power is also simulated in "crash tests" by swinging logs, speeding trucks, and high dives off cliffs. Hurtubise's determination is impressive and not a little scary; Lynch's camera eye is unswervingly honest and wryly clever. This is Animals Attack! meets Twin Peaks by way of RoboCop." Peg Aloi (Boston Phoenix) Preceded by Lynch's first film, ARROWHEAD (1994, 20 min.), an amusing faux documentary about prehistoric beasts in suburban Toronto starring Don McKellar.
Sun./dim. Oct. 7 oct., 21:00
THE HERD
Canada 1998, 105 min. Director: Peter Lynch
"…The Herd, is not a documentary, but it is a convincing exercise in documentary realism, and it again studies one man's obsessive battles with nature. In 1929, a veteran herdsman, the 62-year-old Andy Bahr, was hired by the Canadian government to lead 3,000 reindeer from Alaska to the MacKenzie Delta. The well-meaning government officials thought the reinde could provide a livelihood for the Inuit. The bureaucrats who commissioned the trek assumed it would take 18 months. But the journey ultimately took six years to complete, with most of the original animals dying." Tom Lyons, eye Weekly. Stunningly photographed, this absorbing docu-drama starring Colm Feore, Don McKellar, Mark McKinney, David Hemblem, and others.
Sat./sam. Oct. 13 oct., 19:00
CYBERMAN
Canada 2001, 85 min. Director: Peter Lynch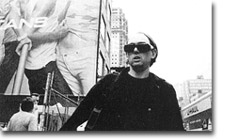 Steve Mann is the world's first real cyborg, a man who exists in harmony with technology. With the help of a computer that he developed to serve as an extension of his own senses, he is able to absorb reality electronically, and through the use of a net-ready camera fitted to his glasses, "People cannot just see me, but also be me". Thanks to this interpretive medium, Mann is able to confront issues of privacy and the manipulation. Lynch makes excellent use of Mann's medium by splicing together both his own 16mm footage, video and photography with Mann's digital film and photo material. Through this synthesis of sources Lynch is able to foreground some of Mann's ideas about manipulation: sometimes you can't tell through whose eyes we witness reality. Cyberman is a brilliant exploration of obsession, the nature of genius, and mass media. Peter Lynch will attend this screening to introduce and discuss his film.